A couple of months ago, I wrote about how Digit Saved me Over $100 in One Week! When I love a financial product and it works well, I make a point to provide a few updates. This way you not only get a follow-up, but those who missed it the first time get a second chance.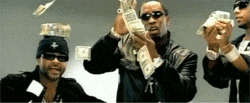 Last week I hit a milestone with Digit. They sent me a text message: "Making it rain savings, like a boss. You now have over $250 in your Digit account." Along with it, they attached the image to the right.
Pretty cool, right?
Umm, What's Digit Again?
I forgot, some of you are reading about Digit for the first time.
Digit is a way to save money automatically. You just link your checking account to Digit and it analyzes your income and spending. Then it squirrels away a little money each day or a few times a week. You don't even notice it is going on.
We all know that you should pay yourself first, but it is really hard to do. You can set up automatic transfers, but that's going to be a fixed amount and not very smart. Also, how many people actually save money? I have a better chance of getting my kids eat broccoli. I bet if I took a poll fewer than 10% consistently save money through automatic transfers.
The other issue with automatic transfers is that it doesn't hide the money from me that well. I see it every time I log into my bank. When it is right in my face, it's almost like it isn't squirreled away at all. It's too easy to say, "Hey I'm a little low in my checking account this money, let's move a chunk in there." And then I can keep spending. That's no good.
At this pace, Digit will set aside nearly $1500 this year. That's particularly notable because most Americans can't afford a $1,000 emergency expense. In less than 5 minutes you can set yourself to be in a better position than most Americans within a year.
I don't want to oversell it, but this website is "Lazy Man and Money." It isn't "Spend Lots of Time Managing Your Money." Saving money doesn't get any easier than using Digit.
P.S.
Dear Digit: I've trademarked the phrase in the title. If you want to work out a licensing agreement let me know ;-).
P.P.S.
Your savings are FDIC insured and the investors are former executives from very popular companies. I don't think have to worry that your money is going to disappear overnight.