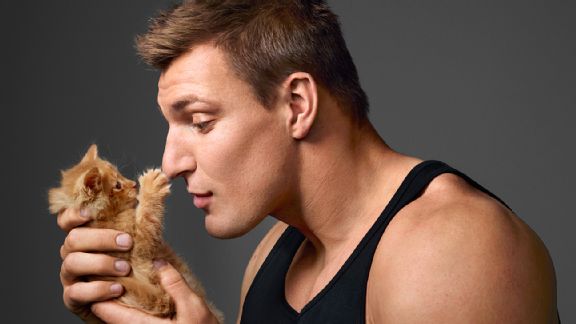 Today sports media will spend their billionth day talking about whether air was deflated out of football instead of using simple common sense. Now that we have simple independent scientific analysis it should be clear that it had more to do with Roger Goodell trying to maintain credibility.
(Sorry, had to get that out there.)
The footballs have gotten more than enough attention (the NFL's witch hunt could use a lot more, but I digress.)
And now for something completely different.
If you haven't heard of Tom Brady's teammate Rob Gronkowski (Gronk), you probably soon will. The runner-up for the EA Sports John Madden cover this year will be on an upcoming episode of Celebrity Family Feud and probably a few things.
Gronk is known as the ultimate party machine. Or maybe that's just his party bus. Sometimes it gets him into trouble with the media. For example, there was the time he partied after the Patriots lost the Super Bowl. Or the other time he was caught partying while injured. And then there were the PG-13 pictures of him with adult actress(?) Bibi Jones. He'd be the first to tell you that the media catches only 69% of his antics. That's just his style of humor.
The other side of Gronk is the hardest working gym-rat/athlete the world may ever meet. He's talented enough to be a legit MVP candidate, which is unheard of at the tight end position. As that article says, "Rob Gronkowski probably isn't a real human being." The best comparison to him physically is Ivan Drago in Rocky IV, except with 28% more DNA from The Hulk.
I've read and watched dozens of interviews with him and he seems to have a two-track mind: party and football.
That was until yesterday when Sport Illustrated wrote about a possible third dimension. They quoted him as saying:
"To this day, I still haven't touched one dime of my signing bonus or NFL contract money. I live off my marketing money and haven't blown it on any big money expensive cars, expensive jewelry, or tattoos and still wear my favorite pair of jeans from high school… I don't hurt anyone (except Gord with the occasional kick to the groin), I don't do drugs, I don't drive drunk, I don't break the law… I'm a 23 year old guy just looking to have a fun time."
(Gord is his father who has a very similar personality.)
When I started this article, I didn't realize the last sentence revealed that he was 23 when he said this. He's 26 now, so the information is a little old. Maybe he's spent more money now? Maybe this quote isn't valid anymore?
I'm thinking it might even be more valid.
My guess is that he hasn't spent more of that money now. Why? Because at age 23, his marketing money wasn't near what it is today. I'm sure that income has grown exponentially as his football résumé has grown. While some lifestyle inflation is to be expected, the marketing money growth can probably cover it and then some.
More importantly, think of how much financial sense the average 23 year old has… especially one that has come into a lot of money. Either he's smart himself or he surrounded himself with some wise advice at an early age.
This is in sharp contrast to the statistics from ESPN's 30 for 30:
"By the time they have been retired for two years, 78 percent of former NFL players have gone bankrupt or are under financial stress; within five years of retirement, an estimated 60 percent of former NBA players are broke."
I like stories where athletes are being fiscally responsible (Daniel Norris qualifies too). It seems like a rare commodity these days.
If Gronk continues to live off his marketing money and invests his contract money, his net worth will be the real Gronk Spike. Of course these aren't half bad either (sorry piggy bank):
Correction: The quote above is actually from Gronk's upcoming book It's Good to Be Gronk. I had just read it in the Sports Illustrated column. (Side thought: Even if all of it was ghost-written, I'm very embarrassed that Gronk will be a published author before I am.)