If you're reading this, there's a good chance you put off holiday gift shopping until the last minute and now you're scrambling.
Shopping on limited time isn't just stressful. With just a week or two left until Christmas, you don't have time to wait around for deals, but you still want to find something meaningful – without breaking the bank.
Here are some last-minute gifts that are as unique as the people in your life.
For your goofball, hipster brother who is always looking for the latest hack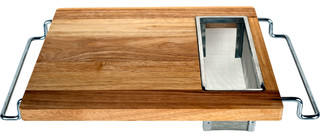 An over-the-sink cutting board ($23.87) for his tiny Manhattan kitchen.
A portable bike speaker ($28.80) so he can blast his music while riding safely.
A cool, wooden Japanese Keyboard Brush ($15) to get the crumbs out of his keyboard. Ugh… it's sold out. Get this one instead.
For your cool dad who loves entertaining guests and still plays in a band.
Himalayan sea salt shot glasses (from $28) for him to share his favorite new tequila with his buddies.
A Sriracha key chain holder ($5) because it seems like he can't taste his food without hot sauce.
These rad personalized guitar picks ($9) because he's been playing for you since you were a kid.
For your sister, who has an incurable wanderlust AND sweet tooth.
A Chocolate Passport ($10) — the only dessert that's as well-traveled as she is.
Herschel Packable Duffel ($19.99) so she can be ready to jet at any time.
These pretty floral notebooks ($13) to document her journeys.
For your brilliant husband, who always makes you tea when you wake up in the morning
A sleek Pilot fountain pen ($12.88) because you're always telling him he should write more.
This Quirky Gray Cordies Desktop Cord Catch ($3) to keep his most-used cords organized and in place. [Editor's Note: I bought this and attempted to use it for 5 minutes before I gave up. I simply can't tame the cord beast.]
This Tea For One set ($18) so you can finally pay him back one morning.
For your health-nut mom who is always on the go and never wants you to buy her Christmas gifts
A NatureBox Deluxe Box ($20) to surprise her with healthy snacks to bring with her on a long day running errands.
An easy-cinch yoga mat sling ($8.49) to help her carry her mat all day without hassle.
A photo book from My Publisher (price varies) to compile all your memories with her, because that's what she cares most about anyway.
For your artsy best friend who always wants to learn to cook and always sees the world in a positive light.
A Rapid Ramen Cooker ($14), because the only way she'll stick to her New Year's resolution to cook at home is to make easy recipes even easier.
This blue skies umbrella ($32), because she always knows how to turn your rainy days into sunny ones.